Archive News 2020
December 2020 - New Firescan Learjet
Air Affairs Australia has added another Learjet to the fleet of Fire Scanning capable aircraft.
VH-LJA is a Learjet 36A, with extended wing-tip fuel tanks, providing enhanced endurance which will enable increased flight time on fire scanning missions, a bonus when on a multi-fire tasking, in particular throughout the large State of NSW.
The scanning system sensor head is installed in a modified camera port on the right side of the fuselage. This aircraft came to us from the USA where it was previously flown acquiring high resolution aerial photography for companies like Google Maps and Google Earth.
With the addition of VH-LJA to the Fire Scanning service, we will have the capacity to provide 5 operational scanning aircraft. These include 2 Kingair 200's, Learjet 35/36 aircraft available to service both modified fuselage and Airpod configured line scanners.
As we enter the 2020-21 Australian Bushfire season, Air Affairs is uniquely configured to supply emergency response wide-area bushfire intelligence gathering throughout Australia. Currently 2 Kingair's are based interstate and combined with the Learjet's based in Nowra (NSW), the aircraft are well positioned to rapidly respond anywhere in the country in the event of bushfire.
We would like to take this opportunity to wish all of our customers, clients and suppliers a Merry Christmas and a Happy New Year. Aircraft maintenance and reduced operations will continue over the holiday period.
The office will be closed from December 23 and re open on January 11, 2021.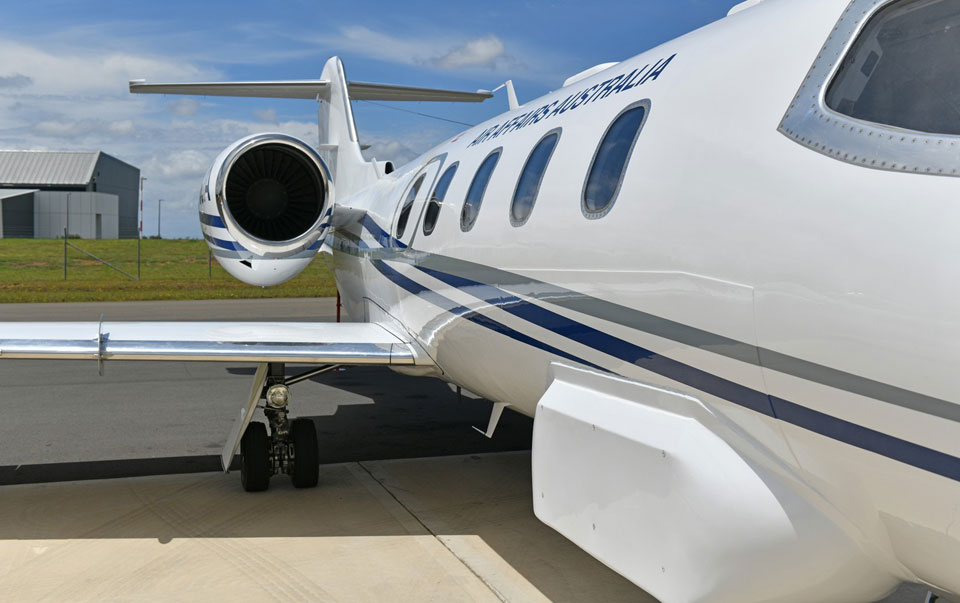 November 2020 - Air Affairs visit Northern Territory Government officials in Darwin
Recently Chris Sievers (CEO Air Affairs Australia), Wally Meyer (Air Operations Manager) and Dennis Hinds (Business Development Manager) visited Darwin for discussions with the Northern Territory Government.
With the current travel restrictions imposed by COVID-19, it was more prudent to travel in the new company Learjet 60 aircraft which is no doubt an aircraft for the future . It is a tremendous aircraft to travel in and was well prepared by our Air Affairs engineers.
Discussions in Darwin were held with senior Northern Territory Government officials including the Minister for Defence Industries, Hon Nicole Manison MLA. Air Affairs Australia also had discussions with Defence Force personnel, the Darwin Chamber of Commerce and other Northern Territory based companies to get an understanding on the opportunities and needs of the Northern Territory.
The welcome and frank discussions provided by the Northern Territory Government were valuable and enlightening. They left Air Affairs Australia in no doubt that there were several investment opportunities that suited a company like ours: agile and customer focused. These discussions will form the basis of Air Affairs Australia near and long term expansion strategies with an aim to have a permanent office in the Northern Territory within the next year.
On the return flight we stopped at Alice Springs for discussions with the Alice Springs Airport Authority. While in Alice Springs we were fortunate enough to be provided a tour of Asia Pacific Aircraft Storage (APAS) which is currently home to over 130 aircraft and growing. It was sad from an aviation perspective to see so many late model aircraft sitting idle but it was also impressive; especially with the work APAS personnel are doing not to mention the pallets of tape! Great thanks to Tom Vincent and his staff for providing this tour.
The trip left us in no doubt that the "Territory" is a great place to invest and we are looking forward to continuing conversation with the Northern Territory Government.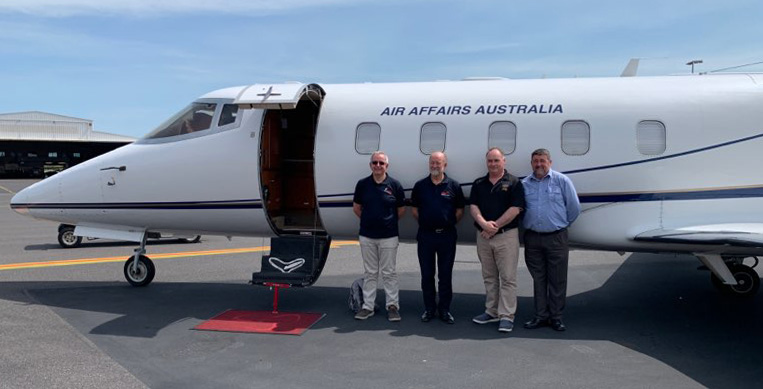 Pictured L/R: Wally Meyer, Chris Sievers, Phil Sutherand (NT Government), Dennis Hinds

October 2020 - Air Affairs team with Raytheon - LAND 129 Phase 3 tactical unmanned aerial system project
Air Affairs Australia have joined a Team of 9 other Australian SMEs to bid for Commonwealth LAND 129 Phase 3 program.  The LAND 129 Phase 3 team is being led by Raytheon Australia as the prime system integrator.  This Team also includes two other Shoalhaven based companies: Schiebel Pacific Ltd and Innovation Composites. These three companies are no strangers to Air Affairs Australia as we currently work with Raytheon Australia on the Jet Aircraft Test and Training contract for Defence; Schiebel Pacific Ltd are co-located within our facilities at Yerriyong NSW and Innovation Composites assist with the Phoenix program.

LAND 129 Phase 3 will replace the current Tactical Unmanned Aircraft System (TUAS) in service with the Army.  The replacement will ensure that the ADF is able to take advantage of the technological advancements being made in the TUAS air vehicle and sensor technology.  Our Team has offered the world-leading Schiebel Pacific Ltd CAMCOPTER S-100 UAS which is already in service with Defence.

Air Affairs Australia has over 15 years in the UAS spectrum with its Phoenix unmanned aerial target.  The Phoenix is designed and manufactured at our Advanced Manufacturing Centre at Nowra and currently in use with all three arms of the ADF as well as several International defence forces.  Our experience and long pedigree in UAS, will complement a Team of innovative and successful Australian SMEs.

It is expected that an announcement on the preferred TUAS will be made late 2020 / early 2021.
Click here to read the story on the Defence Connect website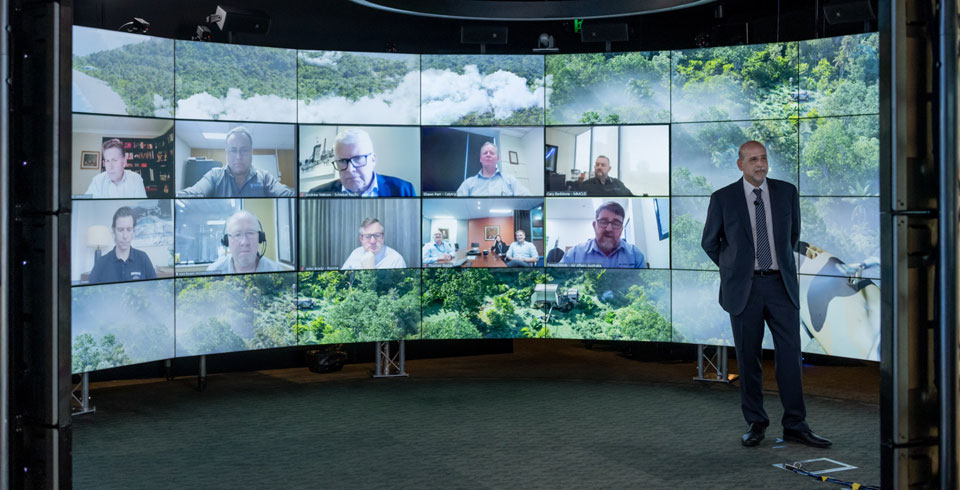 Land 129 Phase 3 tactical unmanned aerial systems project team (image courtesy of Raytheon Australia)

August 2020 - Air Affairs Australia cutting-edge sovereign manufacturing capability
Regional New South Wales engineering services provider, Air Affairs Australia, has developed cutting-edge sovereign manufacturing capability to deliver defence contracts, with its latest win being the supply of 211 Tactical Edge Server (TES) cases for the LAND 400 Phase 2 BOXER 8x8 Combat Reconnaissance Vehicle.
An Australian-owned small-to-medium enterprise employing 180 people solely on defence and defence industry contracts, the company's turnkey solution for the TES – a ruggedised, high performance computing and network device – was originally developed by Boeing Defence Australia (BDA) for Project Currawong battlespace communication system.
"This a significant advancement because a product we have manufactured for one platform is now transferable to another," said Air Affairs Production Manager, Darren Bramley.
Air Affairs completes the vast majority of metal work for BDA's Project Currawong – a contract which has fostered significant growth for the company.
"The nature of Currawong, with its agile development approach and aggressive timelines, meant we could no longer rely on subcontractors for work such as processing anodising so we invested in our own machinery. This has not only enabled us to meet our contractual obligations to Boeing, but given us an advantage for other contracts," said Bramley.
"We've also invested heavily in advancements and automation – with certain components manufactured overnight in an unmanned 'lights out manufacturing' environment."
Having this type of advanced machining capability in a regional town such as Nowra has provided exceptional opportunity for local people to develop specialty skillsets they otherwise would have had to move to bigger centres to acquire.
"Our Boeing contracts have enabled us to employ additional people, including providing career pathways for up to ten apprentices.
"We've also had the benefit of Boeing Project Currawong engineers visiting our operations to work directly with the team to ensure that manufacturing capability can help to inform the design process, ultimately delivering a better end product for the customer." 
Air Affairs Australia has worked closely and collaboratively with Boeing Defence Australia since the commencement of Project Currawong in 2014.
"They have purchased equipment at their own risk in order to guarantee a level of quality to the project and, throughout the project, have proposed several improvements and simplified various module designs, making our hardware simpler and quicker to manufacture," said Project Currawong program director, Ian Vett.

"The nature of the agile development process has meant we have had to continually push boundaries and require the Air Affairs team work at pace. Their ability to do so was a key factor in ensuring we were able to deliver Release 1 of our solution to the customer on time."
Click here to read the announcement on the Department of Defence Ministers website
Click here to read the story on the Boeing Australia website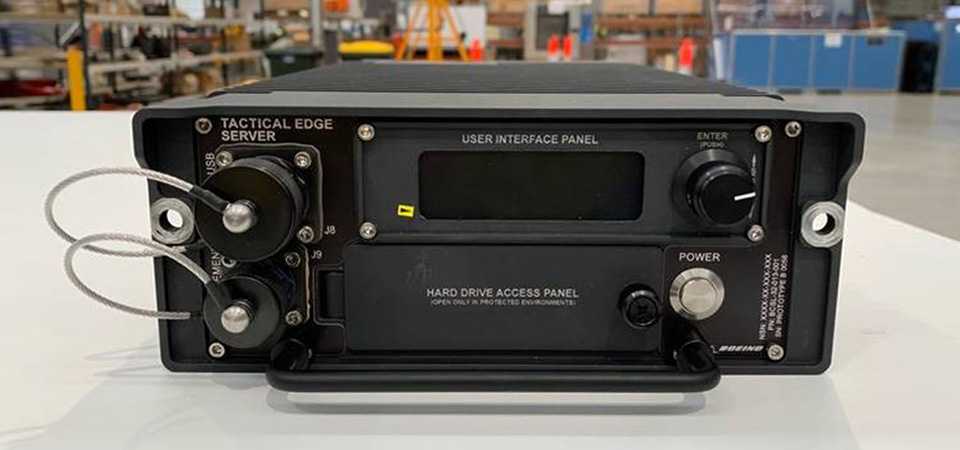 Tactical Edge Server unit. (image courtesy of Boeing Australia)

June 2020 - Advanced Manufacturing Centre
Air Affairs Australia Advanced Manufacturing Centre (AMC) is now fully operational in the Flinders Industrial Estate, South Nowra.

This new facility is a major upgrade from our original machine shop in South Nowra, with increased factory floor area, latest technology equipment, purpose designed engineering and quality control area with modern office, administration and planning areas.
Air Affairs Australia's training academy is also located within the AMC facility.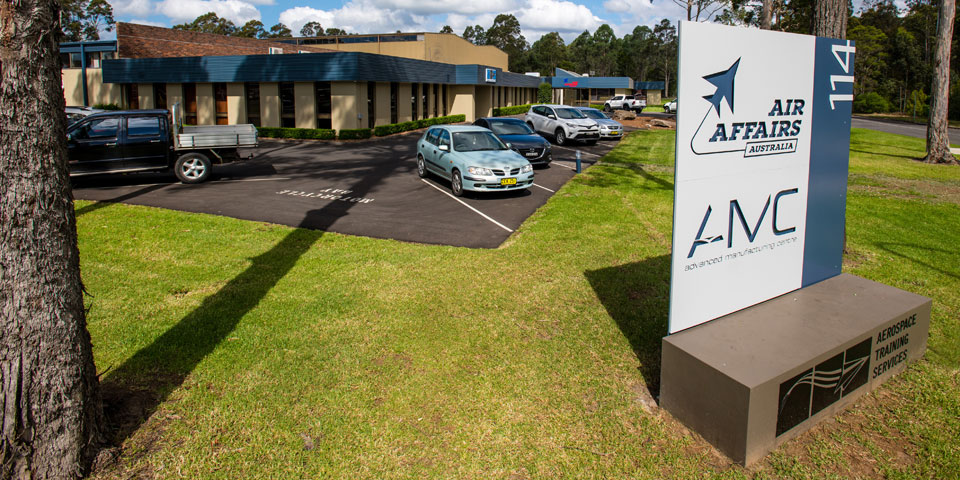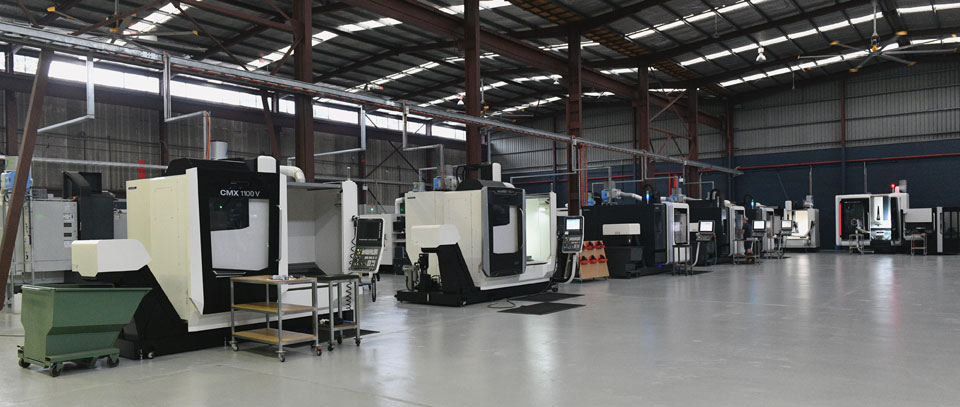 April 2020 - Phoenix Jet used in HMAS Arunta Missile Firing
Air Affairs Australia (AAA) are pleased to have been involved in the recent successful missile firing carried out in Australian waters by HMAS Arunta.

The ESSM is a surface-to-air weapon that uses radar homing guidance to counter fast-moving anti-ship missiles, forming part of Arunta's air defence capability.

AAA provided a Phoenix Jet Unmanned Aerial Target that was successfully launched and flown towards HMAS Arunta in order to emulate a realistic airborne threat.  During an attack profile that was flown, HMAS Arunta responded with a missile launch that successfully tracked and engaged the Phoenix Jet UAT.

AAA would like to congratulate Arunta's Commanding Officer, Commander Troy Duggan and the crew onboard Arunta, together with Maritime Warfare Centre  personnel on this successful firing.

The Air Affairs Australia Phoenix Jet is a Remotely Piloted Aircraft that operates as an Unmanned Aerial Target (UAT) in support of the Australian Defence Force weapons tracking and firing programs.

The Australian designed Phoenix Jet is a fixed wing, small to medium size jet powered UAT capable of high-performance flight and manufactured exclusively in Australia by Air Affairs. The fully deployable Phoenix Jet UAT system comprises a mobile Launcher, Ground Control Station and Support Equipment. The complete system can be easily transported for operations at several approved ADF Ranges or can be adapted for shipboard launch at sea.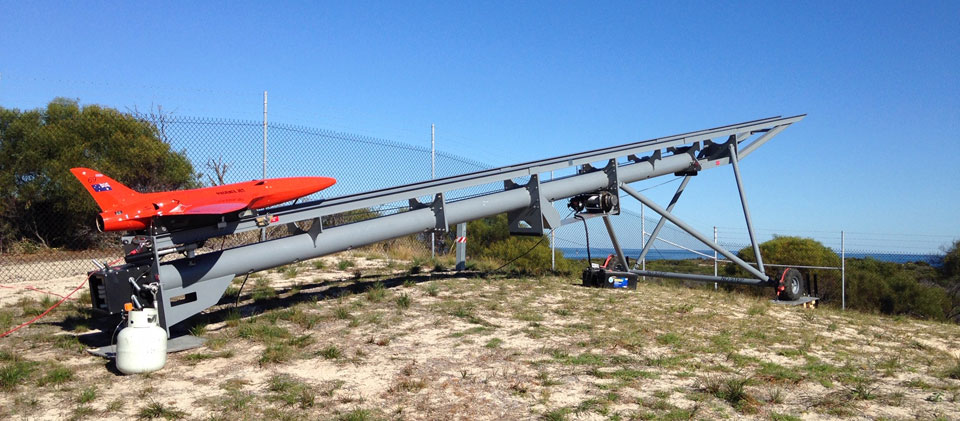 March 2020 - Air Affairs Australia  signs multi–million dollar subcontract with Raytheon Australia
Air Affairs Australia have signed a multi-million dollar agreement with Raytheon Australia to provide services under the Joint Adversarial Training and Testing Services (JATTS) contract to Defence.

The $330 million dollar prime contract was recently signed with Raytheon Australia Pty Ltd, as prime contractor, to deliver JATTS to the ADF for a period of eight years with options for further extensions.

"This is an exciting time for Air Affairs as the company has grown significantly over the last five years with extra aircraft being added to our fleet and the development of a future growth plan that will continue to deliver the required capabilities to our ADF customers," said Chris Sievers, Chief Executive Officer, Air Affairs Australia.

Consisting of over 94 per cent Australian Industry Contribution, the JATTS contract secures long term employment of over 88 Raytheon Australia, AAA and ATS personnel, predominantly based in the Nowra region of New South Wales.

These contracts provided support to ADF exercises with 'enemy' force aircraft, aerial targets, and electronic warfare capabilities servicing a range of ADF platforms including:
The Air Force's Joint Strike Fighter, Super Hornet, Growler, Wedgetail  airborne early warning and control capabilities and ground based  Aircraft Control Units
Navy's Helicopter Frigate and Guided Missile Destroyer capabilities and Army's Ground Based Air Defence Capabilities.
AAA's fleet of specially configured Learjet aircraft and highly trained aircrew have been providing dedicated Opposing Forces and Target Towing services to the ADF since 2015. In addition, ATS as an associate company has been providing specialised manned and unmanned aerial target services continuously for the past 34 years.

Critical services to be delivered under JATTS includes aerial opposing force effects, manned and unmanned aerial targets and sophisticated electronic attack.

The contract also introduces two additional capabilities: the testing, training and certification of ADF Identification Friend or Foe Mode 5 interrogation systems and advanced airborne threat simulations.

The JATTS contract is designed to evolve over the term of the contract to ensure it remains contemporary and continually satisfies the ADF's requirements during a time of significant Defence capability expansion.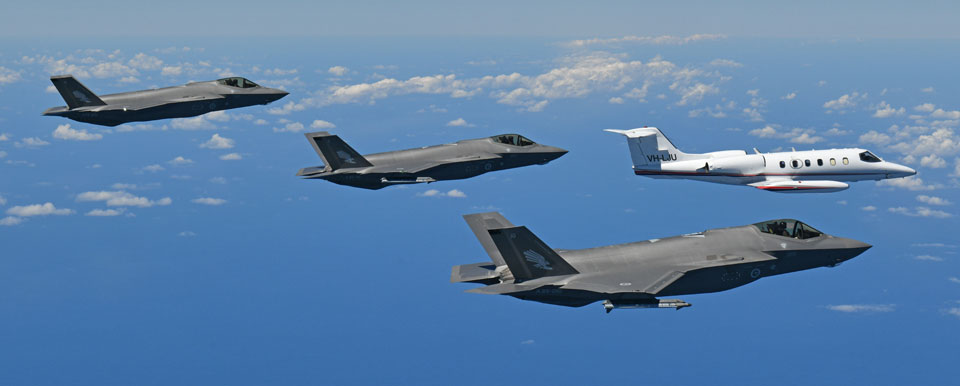 February 2020 - North America Aerial Fire Fighting Conference
Air Affairs Australia will be exhibiting at this years North America Aerial Fire Fighting Conference being held in Sacramento, CA, USA. The event will be held on Wednesday March 4 and Thursday March 5. Air Affairs are exhibiting with PAL Aerospace on stand number 309.

If you are visiting this event please come to PAL Aerospace stand meet the Air Affairs team. We will have company representatives on hand to discuss the aerial fire products and services we provide.

For more information on the conference, visit www.aerial-firefighting-northamerica.com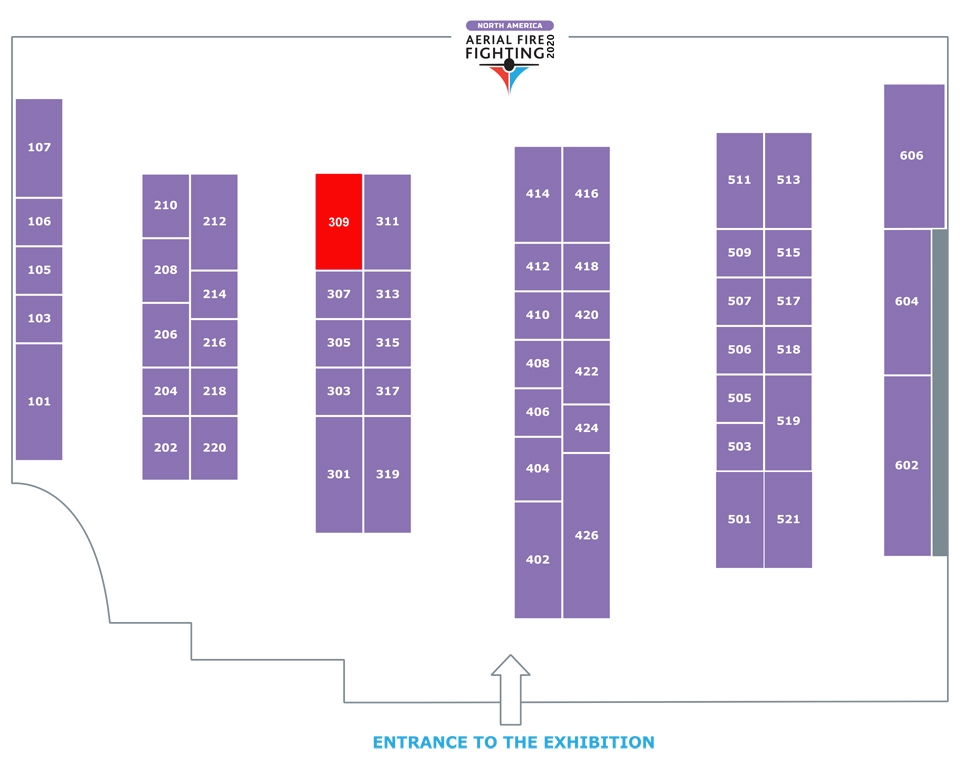 February 2020 - Singapore Air Show
Air Affairs Australia will be exhibiting at this years Singapore Air show. The event will be held from Tuesday February 11 through to Sunday February 16. Air Affairs are exhibiting on the Team Defence Australia stand which is located in B67.

If you are visiting this event please come to Team Defence Australia stand meet the Air Affairs team. We will have company representatives on hand to discuss the products and services we provide.

Opening hours for trade visitors are Tuesday February 11 through to Friday February 14, 09:30 – 17:00 local time.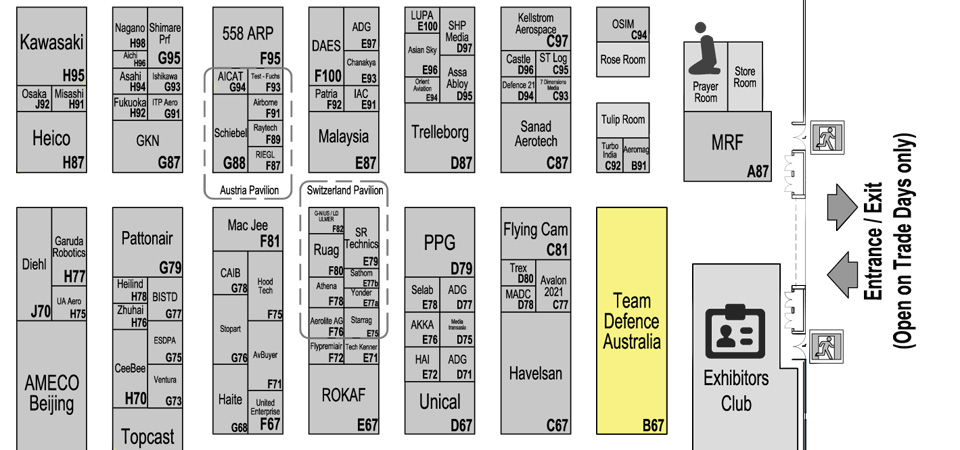 January 2020 - Firescan Operations
Our Special Mission Firescan pilots, specialist aircrew, maintenance engineers and operations staff have been extremely busy over the Christmas/New Year holiday period with the current bushfire activity in several states of Australia providing Airborne Bushfire Reconnaissance services to the NSWRFS , CFA and QFES.
The Currowan fire came very close to the Air Affairs Flight Operations facilities at the Albatross Aviation Park next to HMAS Albatross but due to the efforts of the RFS crews our facilities were not damaged and operations have continued during the current bushfires.
Air Affairs Australia has provided Airborne Bushfire Reconnaissance services throughout Australia since 1994. Since it's first demonstrated capability in the summer of 1994-95, the service has been used extensively in this unique role. Established as a crucial element in Bushfire intelligence gathering, Firescan captures line scan imagery of bushfire activity, delivered during both day and night-time flight operations, provide imaging of the ground, clearly defining active fire and burnt terrain through dense smoke.
Over the past week AAA have been providing support to the team at R+M Aircraft Air tractors.

The Air tractor firefighter aircraft are currently being maintained by Statewide aviation during their local operations and AAA have been able to provided normal and after hours support through use of our facilities and manpower to help get the aircraft back into the air as quick as possible.

Images taken from one of our Special Mission Learjet aircraft, Pyro-cumulonimbus clouds over the Currowan fire and active fire on the Central coast

R+M Aircraft Air tractors undergoing some mainteneace at the Air Affairs Australia facilites during the current bushfires in NSW