Archive News 2018
June 2018 - Phoenix Target Drone used for Army Firing at Woomera
The Air Affairs team have returned from a successful deployment at Woomera where their Phoenix Unmanned Aerial System was used for a live firing exercise with the Australian Army.

The Phoenix Unmanned Aerial System is an Australian product manufactured and supported by Air Affairs Australia Pty Ltd (AAA) from its facilities in Nowra NSW. AAA has designed, developed and has an open production line manufacturing the Phoenix aerial target system in order to provide a cost effective, reliable and dynamic aerial target to meet the ongoing weapons training and system evaluation objectives required by the Australian Army and other ADF weapons systems.

The Phoenix drone is a clean configuration target and is not fitted with deployable towed targets, hence all weapon firing exercises are 'skin' shots, permitting full performance of the target envelope in respect of altitude, speed and manoeuvrability.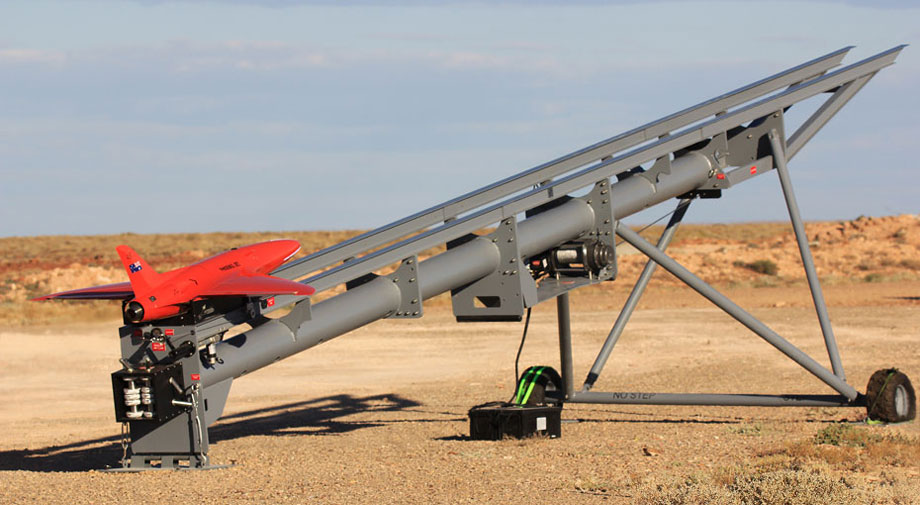 May 2018 - New Paint Scheme for Air Affairs Australia Learjets
Air Affairs Australia is currently updating the paint scheme on its fleet of Learjet 35 aircraft. This scheme update will see the entire fleet in identical colours. Two aircraft have already been completed. VH-SLE in its new colours pictured below on a recent target towing operation.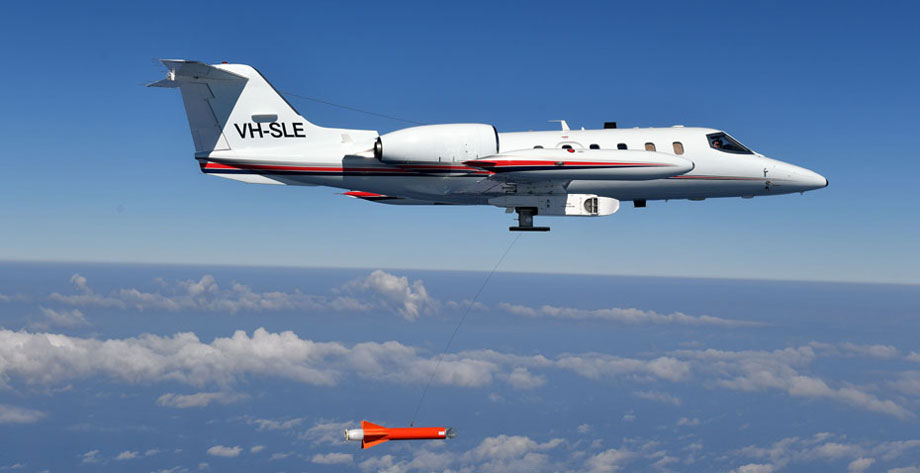 Air Affairs Australia Learjet 35A VH-SLE in new company colour scheme.
April 2018 - Minister for Defence visits Air Affairs Australia
Minister for Defence Senator Marise Payne and Gilmore MP Ann Sudmalis visited the Air Affairs Facility at the Albatross Aviation Technology Park on Friday March 23 and officially opened the new head office building.
The Defence Minister was briefed on the Leonardo AW Hero unmanned helicopter that was on display and also had a tour of the Air Affairs facilities and was shown the many defence related capabilities the company provides.
Minister for Defence Senator Marise Payne and Gilmore MP Ann Sudmalis were introduced to representatives of Kratos which has opened an Australian office at Air Affairs.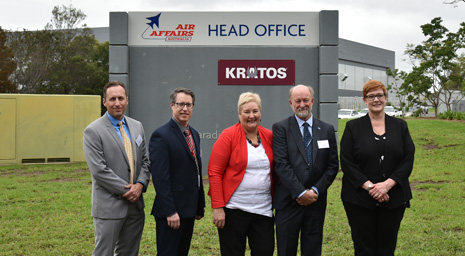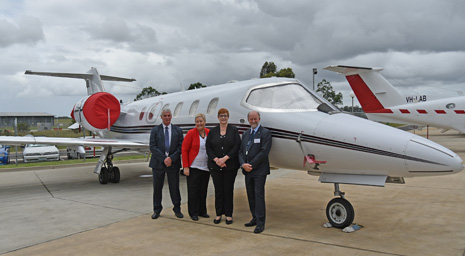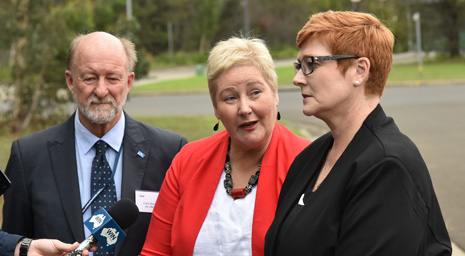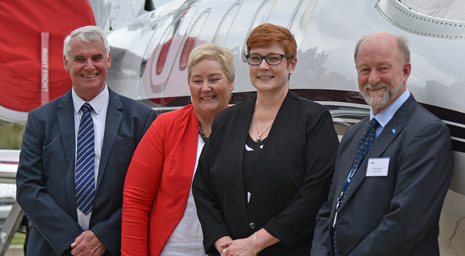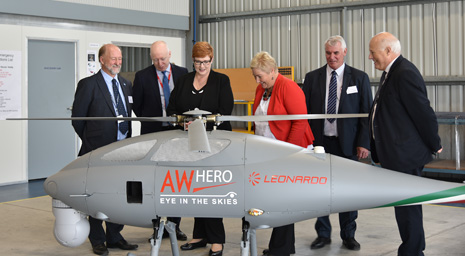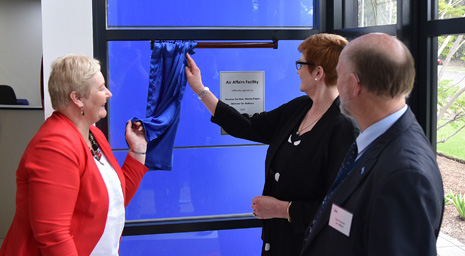 March 2018 - Hero UAS on Display at Air Affairs
Air Affairs Australia and Leonardo will be displaying the latest generation rotary wing UAS at Air Affairs Australia facilities at Yerriyong NSW from 15 to 23 March 2018. Should you wish to view the display and have a briefing on the AWHero please contact Dennis Hinds on +61 (0) 488 016 144.
Designed to fulfil the spectrum of short-range military missions, either Battlefield or Maritime including:
ISTAR
Force Protection
Combat Support
Route Clearance
Cargo Re-Supply
BLOS Comms Relay
Mine Clearance
Anti-Submarine Warfare
Migration Control
Anti-Piracy
Riot Control
Covert Operations and Surveillance
Designed to the latest international aeronautical standards to optimise Aviation safety in the maritime and land environments including launch and recovery operations, advanced safety critical system redundancies, automatic failure management and fight termination systems
The only OEM that designs and manufactures both the Air Vehicle and Payload Options to ensure lowest risk for systems integration as well as the flexibility of underbelly and nose payload configurations which will not impact Centre of Gravity envelopes, fuel payload and range.
Modular architecture to ensure easy interface to existing user networks.
Fully maintained, operated and supported by Australian Industry enabling new Defence Export opportunities for Air Affairs Australia .
February 2018 - Flying Resumes - Singapore Airshow
Pilot training and aircraft maintenance has continued over the Christmas / New Year low activity period and full operations recommenced on Monday January 15th. Air Affairs operates a fleet of Learjet 35 and 36 aircraft to provide Jet Aircraft Support for Australian Defence Force training.

They also provide Airborne Bushfire Reconnaissance services and flew several scanning missions capturing line scan imagery of bushfire activity over the christmas/ new year period. Representatives from Air Affairs will be attending the Singapore Airshow which is being held at the Changi Exhibition Centre from February 6 through to February 11. If you would like to catch up with our representatives at the show, please contact us to arrange a meeting.