Archive News 2016
December 2016 - Air Affairs awarded Contract Extension for JET AIR SUPPORT TO ADF TRAINING
Air Affairs Australia is proud to announce a contract extension to the JET AIR SUPPORT TO ADF TRAINING CONTRACT with the Australian Defence Force. The Jet Air Support Contract provides Training Support Tasks including Aerial Target Towing and Tactical Flight Missions in support of the Navy and Air Force. The contract, which commenced on 1st October 2015, bought 35 additional jobs to Air Affairs to operate seven Learjets with target towing and special mission equipment.
Air Affairs is a wholly Australian owned company established in 1984 with headquarters based at the Albatross Aviation Technology Park at Nowra, NSW, and has been providing target services, fire surveillance and precision engineering support services to the Australian Defence Forces, other military forces and Governments since 1995.
Air Affairs is one of only two companies in the world that manufacture this specialist equipment, which is exported to 9 overseas countries. Air Affairs has completed acceptance flights for the Phoenix Jet Unmanned Aerial Target and delivers Learjet target services around the world.
Managing Director Chris Sievers said that Air Affairs is pleased to continue their support to the Australian Defence Forces' training programs and will now provide more and new services during a period of very high operational demand on our Forces.
We would like to take this opportunity to wish all of our customers, clients and suppliers a Merry Christmas and a Happy New Year. We will be closed from December 22 and re open on January 9, 2017.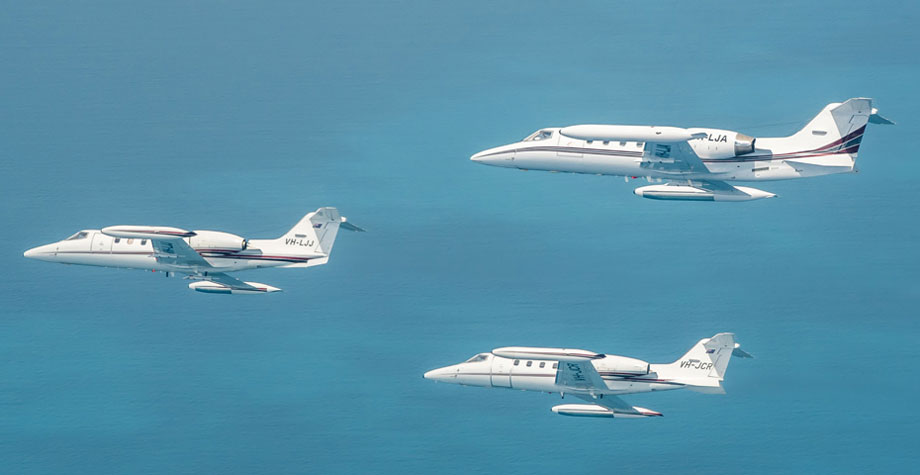 November 2016 - Air Affairs Awarded Common Services Support Contract
Air Affairs Australia is pleased to announce the award of the Common Services Support (CSS) contract by the Commonwealth. Award of this long term contract will enable Air Affairs to further expand its aviation presence and provide employment for highly skilled technicians in regional NSW.

The CSS contract will require Air Affairs to provide the Commonwealth with Aviation Life Support, Non Destructive Testing, Logistics support, Ground Support Equipment, Aircraft Battery support and Helicopter Corrosion Control services as well as ad hoc workshop support. The majority of these services will be delivered from new purpose built facilities within the Air Affairs aviation precinct located at Albatross Aviation Technology Park Yerriyong NSW.

In keeping with Air Affairs philosophy to promote Australian Industry, Air Affairs will be supported by two Australian subcontractors; Red Baron Aviation Life Support and BEAK Engineering (Aust). This has removed the risk of service disruption by maintaining local support aspects whilst carefully choosing subcontractors with proven experience and performance in supporting the RAN for the applicable work scope.

Air Affairs is a recognised systems and support services provider to Australia and International Defence and Industry agencies and organisations and has extensive design and manufacturing capabilities and is the Original Equipment Manufacturer for several products required for Defence operations. These capabilities also support maintenance and repair activities, again meeting Defence and Industry requirements. Air Affairs also provides design and development support directly to Navy Aviation System Program Office for repair schemes for obsolete parts, including development of new parts, development of installation designs for equipment to be fitted into RAN aircraft.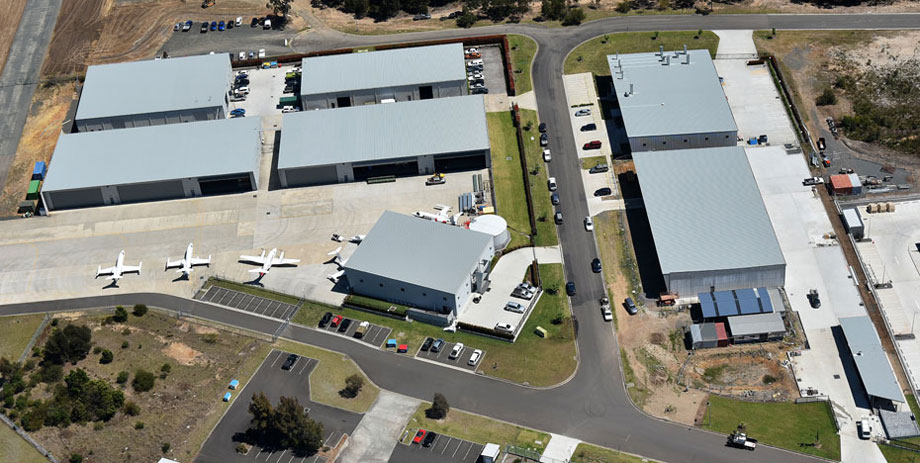 November 2016 - Air Affairs New Hangars & Machine Shop Development
Development work has started on newly acquired land adjacent to the Air Affairs current facility at the Albatross Aviation Technology Park for more multi-purpose hangars and a new state of the art machine shop. This is expected to be completed by late 2017 and continues to strengthen our commitment to Defence Training and support services at HMAS Albatross .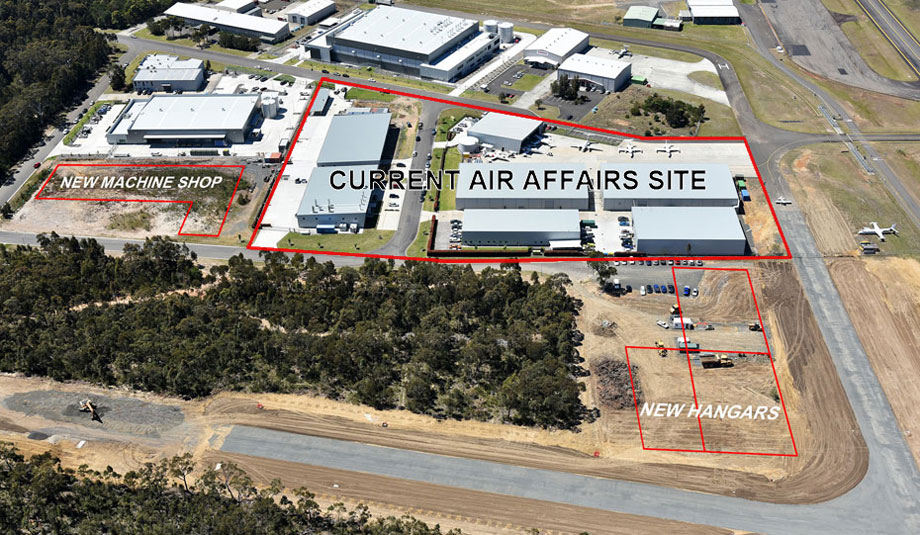 October 2016 - Aerial Firefighting Asia Pacific
Air Affairs Australia attended the Aerial Firefighting Asia Pacific conference in Adelaide in September as an exhibitor and a bronze sponsor of the event. Managing Director Chris Sievers spoke at the conference, giving an talk on Air Affairs bushfire mapping capabilities using Learjet 35 aircraft fitted with and airpod and the Kingair B200T aircraft that is fitted with the scanning equipment.
The Air Affairs team had an exhibit set up in the main exhibition area with staff on site to discuss the operations, a short video gave visitors examples of fire scans produced by Air Affairs.

September 2016 - Phoenix Operations off West Coast
In late July 2016 the Phoenix UAT Team deployed to West Australia in order to carry out UAT flights in support of the Royal Australian Navy. The Ground Control Station, Portable Workshops, Launcher and Support Equipment were freighted to HMAS Stirling for setup on Garden Island where preparations and launching of Phoenix took place.
This was the first launch of Phoenix conducted in the West and hopefully there will be more to come in the future.
The successful deployment confirmed the versatility and capability of the Phoenix UAT System with previous operations having been conducted from Beecroft NSW, Woomera SA and now Garden Island WA."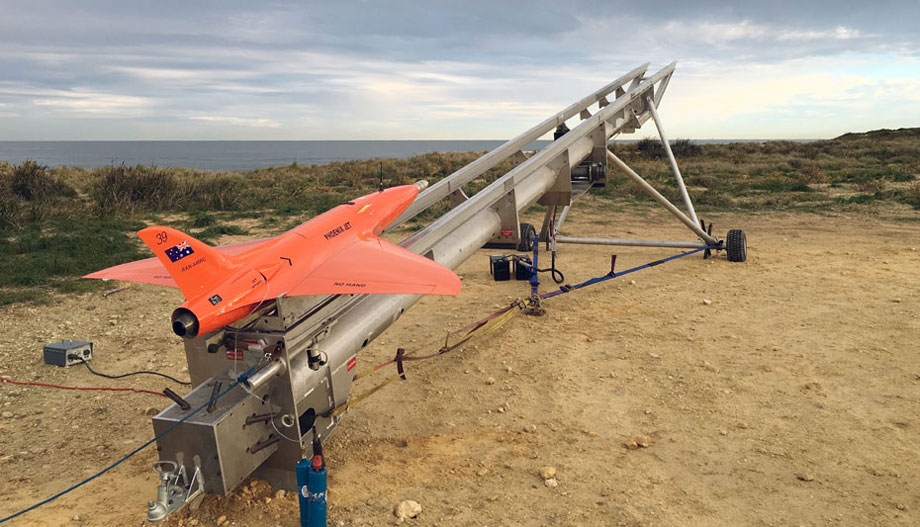 July 2016 - Phoenix Production to increase at Air Affairs Australia
Air Affairs have increased production of the Phoenix Jet UAV target drone as demand for the target and operations increase. The company has received numerous inquires from overseas defence agencies in regards to their Australian designed and built product.
Air Affairs currently operates the drone for the Australian Defence Force and is working with new overseas customers.

June 2016 - EFIC Case Study Air Affairs Australia
Australian Government department EFIC which help businesses with export finance recently visited the Air Affairs Australia facility at the Albatross Aviation Technology Park where they carried out an interview with Managing Director Chris Sievers for a case study to show case the business. "Efic's understands the unique challenges that small businesses face and is there to help companies like Air Affairs make a mark on the global stage." Chris Sievers Managing Director, Air Affairs.
Click here to view the Air Affairs case study on the EFIC website.
May 2016 - Phoenix Target Drone used for Army Firing at Woomera
The Air Affairs team have returned from a successful deployment at Woomera where their Phoenix Unmanned Aerial System was used for a live firing exercise with the Australian Army. Two technicians from UAV Navigation in Spain attended the trials to provide support during the flights.
The Phoenix Unmanned Aerial System is an Australian product manufactured and supported by Air Affairs Australia Pty Ltd (AAA) from its facilities in Nowra NSW. AAA has designed, developed and has an open production line manufacturing the Phoenix aerial target system in order to provide a cost effective, reliable and dynamic aerial target to meet the ongoing weapons training and system evaluation objectives required by the Australian Army and other ADF weapons systems.
The Phoenix drone is a clean configuration target and is not fitted with deployable towed targets, hence all weapon firing exercises are 'skin' shots, permitting full performance of the target envelope in respect of altitude, speed and manoeuvrability.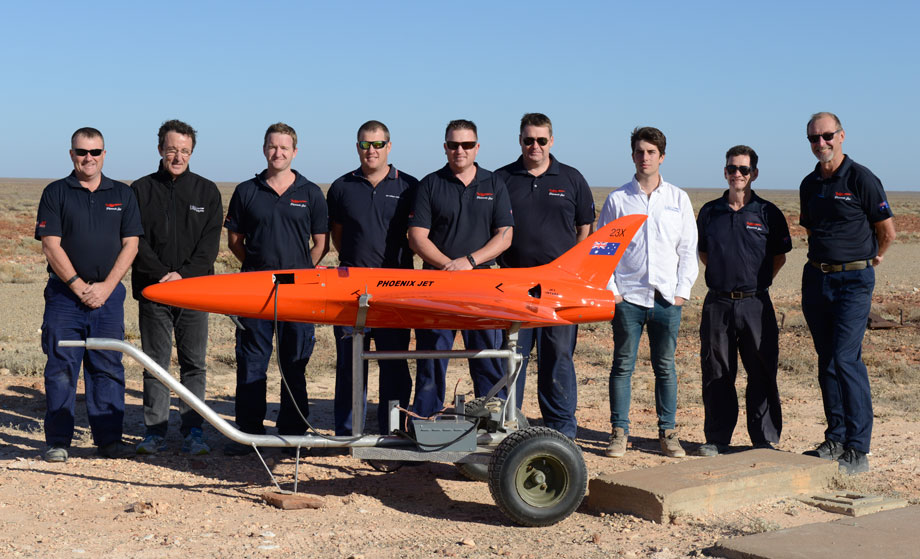 April 2016 - Prime Minister Officially Opens Air Affairs Facility
Prime Minister Malcolm Turnbull visited the Air Affairs Facility at the Albatross Aviation Technology Park on Thursday March 24 and officially opened the facility. Local member Ann Sudmalis was also at the opening.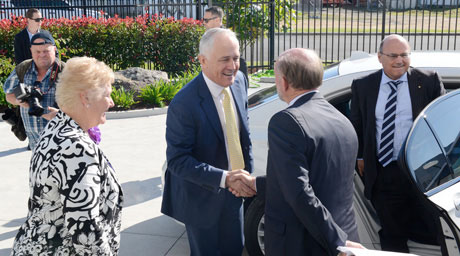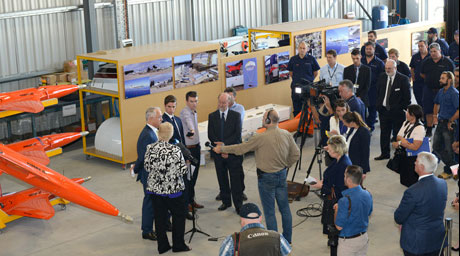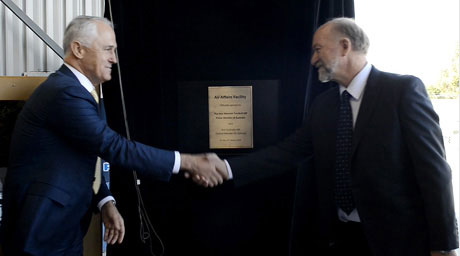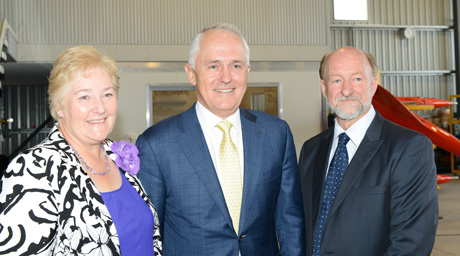 March 2016 - Phoenix Jet Flight Trials
Air Affairs have successfully completed a series of flight trials. These trials were held to implement a new version of the auto pilot software and the refine the overall software package. Two technicians from UAV Navigation in Spain attended the trials to provide support during the flights.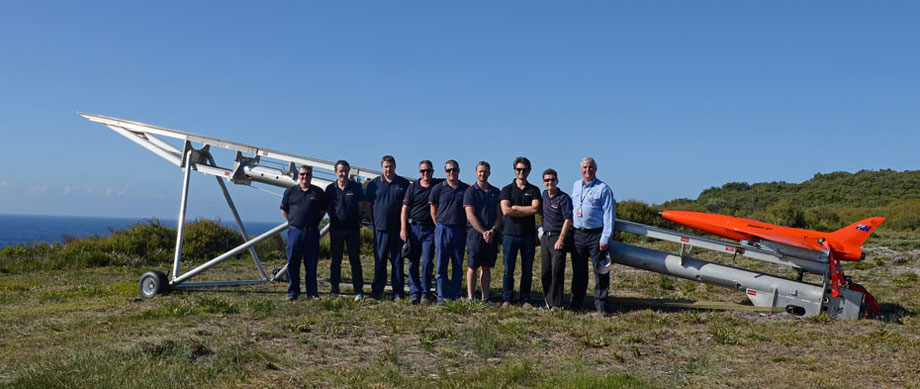 February 2016 - Flying Resumes
Pilot training and flying has continued over the Christmas / New Year low activity period and full operations recommenced on Monday January 25th. . Air Affairs operates a fleet of seven Learjet 35 and 36 aircraft to provide Jet Aircraft Support for Australian Defence Force training.
Air Affairs firmly believes that having a common aircraft type is a key factor in maximising aircraft on-line availability, common spare parts, common pilot type ratings, check and training and approvals. Ultimately this results in more consistent and safer operations. All aircraft are equipped with ADS-B, TCAS/RVSM and several aircraft are fitted with wing hard points and specialised mission systems.