Special Mission Learjet
Air Affairs operates a fleet of 30 & 60 series Learjet aircraft to provide Jet Aircraft Support for Australian Defence Force training. Air Affairs firmly believes that having a common aircraft type is a key factor in maximising aircraft on-line availability, common spare parts, common pilot type ratings, check and training and approvals.

Ultimately this results in more consistent and safer operations. All aircraft are equipped with ADS-B, TCAS/RVSM and several aircraft are fitted with wing hard points and specialised mission systems.

Air Affairs' Learjet's are also capable of fire scanning and surveillance if greater speed or responsiveness is required in addition to the specially modified Beechcraft B200 KingAir.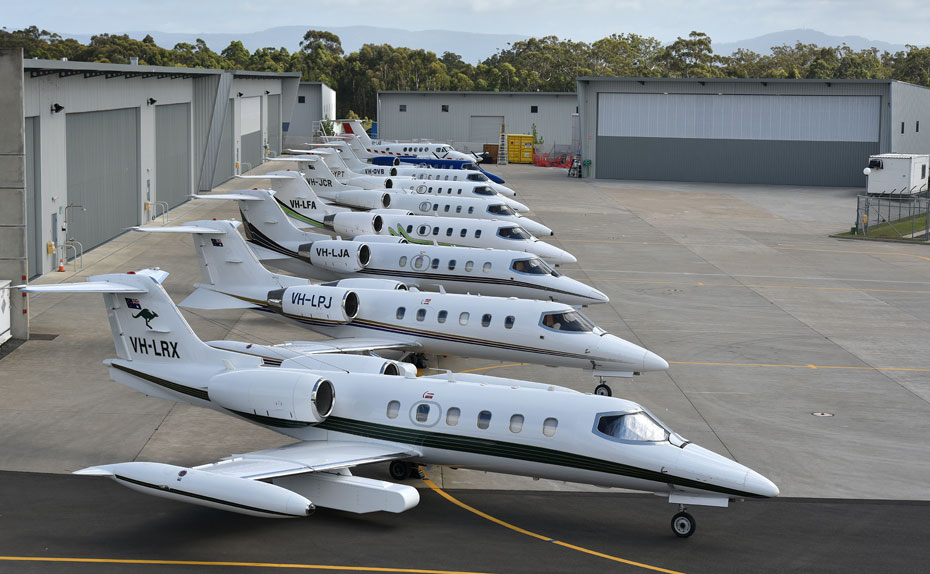 Air Affairs fleet of Learjet's have the following capabilities:
Corporate Charter - RVSM & RNP10 Compliant
Medivac Configured
Target Towing
Test Flying
Wing Hard Points
Cabin Console & PC Interface
Special Mission Wiring (data & power)
UHF Radio
Video Recording System
4 Station Intercom
Camera Door
Learjet 35A Standard Specifications
| | |
| --- | --- |
| Exterior | Range |
| Exterior Height: 12 ft 3 in | Normal Range: 1930 nm |
| Wing Span: 39 ft 6 in | Max Range: 2125 nm |
| Length: 48 ft 7 in | Service Ceiling: 45000 ft |
| | |
| Interior | Distances |
| Cabin Height: 4 ft 4 In | Balanced Field Length: 6300 f |
| Cabin Width: 4 ft 11 In | Landing Distance: 4333 ft |
| Cabin Length: 12 ft 11 In | |
| Cabin Volume: 268 cu ft | Performance |
| Door Height: 4 ft 2 In | Rate of Climb: 4,340 fpm |
| Door Width: 3 ft | Climb Rate One Engine Inop: 1280 fpm |
| Internal Baggage: 40 cu ft | Climb Rate One Engine Inop: 1280 fpm |
| | Max Speed: 470 kts |
| Occupancy | Normal Cruise: 436 kts |
| Crew: 2 | Economy Cruise: 424 kts |
| Passengers: 6 | |
| | |
| Operating Weights | Power Plant |
| Max T/O Weight: 18300 Lb | Engines: 2 |
| Max Landing Weight: 15300 L | Engine Mfg: Honeywell Engines |
| Operating Weight: 10310 Lb | Engine Model: TFE 731-2 |
| Empty Weight: 10119 Lb | |
| Fuel Capacity: 6198 lbs Lb | |
| Payload W/Full Fuel: 1992 Lb | |
| Max Payload: 3190 Lb | |